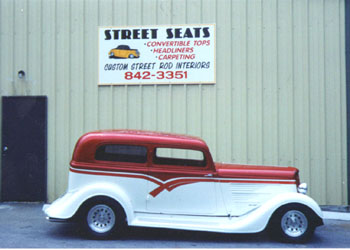 This is the 1933 Dodge Sedan of Mr. Dick Pasquale.
To date, we've done nine cars for Dick, and every one has been different ot say the least. When designing this car, he informed us that he had plenty of time to "REST" when he got old, so until then...he wanted Wild. This is a far stretch if you could see the Packards that we upholstered for Dick.
Every interior we've done for him seems to have a different theme.
The rear seats are modified Dodge Daytona, which are moulded into the rear of the compartment. The materials are red tweed and white vinyl. Mase tweed was also used as an accent color. Keep an eye open for the other cars that we've done for Dick, I will be adding them to our site soon!
CLICK ON SMALL
IMAGE FOR
LARGER PICTURE

CLICK ON SMALL
IMAGE FOR
LARGER PICTURE
Back to Archived Portfolio Page