1935 Ford Sedan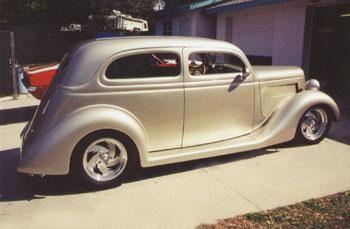 Back
This cool ride belongs to Jack and Tawny Pace of Port Richey, Florida.
To start off with, we fabricated a top folding storage unit instead of rear seats which would accommodate their gear on long trips.
A custom fabricated console also housed accessory switches as well as window switches. The overhead console housed the stereo unit and led into an indirect overhead neon lighting system.
After the customer's specific needs were discussed, it was time for designing.
The door panels were sculpted with flowing inserts which were carried thoughout the interior. A "gathered" look was used on some seat and door panels for the detail. Ultra leather was the material of choice that complimented the exterior ghost flames.
CLICK ON
SMALL IMAGE
FOR LARGER PICTURE
Back