1939 Ford Coast To Coast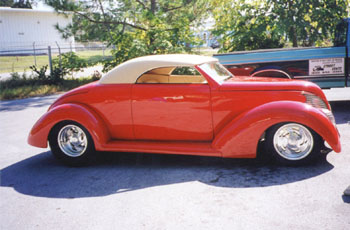 This car belongs to Mr. Bob Millard. Bob is presently involved in the International Show Car Association (ISCA) as an executive. He was also a professional car
show judge and spent many hours in the air traveling from show to show around
the country judging the very best.
This is Bob's pride and joy. In this case, Bob told us that he wanted clean flowing
lines and a center console, and we took it from there. The seats are modified Fiero and the entire interior is sand ultra-leather and wool carpet. We covered the dash
with ultra-leather as well and then stretched it down onto the console. The top was covered in German cloth which brought the whole car together.

THANKS BOB!

Since it hit the street, this car has made every major magazine around, including "Street Rodder", "Street Rod Builder" and "Southern Rodder" just to name a few.
CLICK ON SMALL IMAGE
FOR LARGER PICTURE

CLICK ON SMALL IMAGE
FOR LARGER PICTURE