1947 Ford Pick Up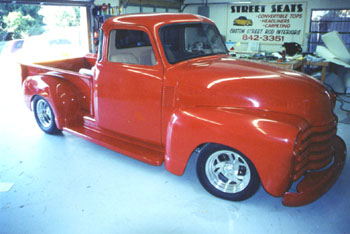 This ground pounder belongs to Dennis Parish of the Tampa Knights. His club hosts the Southeastern Nationals in Tampa, Florida every year.
Leather, leather and more leather is all Dennis said to us when he delivered his new ride to our shop.
This is the third piece we've done for Dennis and I must say he's very satisfied.
He wound up in the "Winner's Circle" at the Nationals and that's exactly what
he was hoping for.
We built a custom suspended console with illumination underneath. Moulded a
hi-tech door panel design. Reworked the seats to go with the design and then
covered everything with sand colored leather, with a lighter tone just to give it a little style!
This '47 has a solid moulded headliner and leather wrapped cabin.

CLICK ON SMALL IMAGE
FOR LARGER PICTURE




REALLY COOL!


CLICK ON SMALL IMAGE
FOR LARGER PICTURE